Ancestral Tours
Local Contacts - $45
Provided with enough detailed information about a family (names, known places of residence, and an approximate date of birth, marriage, death or emigration), we can look for living relatives, or collateral family, by contacting local offices and historians. The success of the Local Contacts relies to a great extent on the quality and quantity of the data provided.

In the absence of sufficient data, it may be necessary to first conduct Basic Genealogical Research. This should insure, at the very least, a visit to the correct place of origin. Since each request typically warrants several calls and letters so that we can be certain of the result, this fee is limited to one family line per town or village.

In all cases, we assess whatever data is provided before submitting a proposal on how we may fulfil your wishes. This assessment and proposal, including an estimate of the cost, is free of charge.
Local Contacts are recommended to precede any family reunions, or visit to a family's place of origin. Local contacts prior to a visit cannot be overstated in what they might possibly add to a visit. Local Contacts should not be seen as a substitute for research, since local authorities are typically unable to assist without some initial details. We suggest that Local Contacts be made only after a place of origin (e.g., house number, family names, dates of birth, marriage or emigration, etc.) can be verified. Local Contacts are included (free of charge) when Basic or Complex Research is combined with a Day Trip.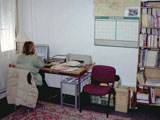 We are happy to assist clients to follow up on their Reunion with correspondence to family members or local authorities. We are especially pleased to send Cards, Gift Baskets, & Flowers. on holidays and for special occasions. These "Additional Services" are treated separately, and rates depend on the amount of translation and the gift. During an Ancestral Tour, we typically look for someone within the family, or locally, to help with correspondence. It is not unusual to find someone who speaks some English, and has an e-mail address.

---
Family Reunions & Visiting Ancestral Towns/Villages
For the purpose of visiting villages and meeting relatives we provide a comfortable vehicle, with an English speaking driver and interpreter. The price for these services is based on the number of passengers (up to 3 persons in a sedan, or 4 to 7 persons in a van), the round trip distance, and the total number of hours. The above rate is the rate for a 6 hour day for up to 3 passengers and 300Km round trip. From this baseline, the rates vary for larger groups, greater distances, and longer days. We do offer a substantial discount for Extended Travel (travel for 3 or more days in a row). The following rubric contains the different options and corresponding rates.
Group of up to 4 persons - (up to 6 hours and 300Km round trip)

$350/Day

Group of 5 to 7 persons - (up to 6 hours and 300Km round trip)

$425/Day

Group of up to 3 persons - (up to 9 hours and 450Km round trip)

$450/Day

Group of 4 to 7 persons - (up to 9 hours and 450Km round trip)

$525/Day

Interpreter to accompany families who wish to drive themselves

$40/hour

Additional mileage - for 4 passenger car -

100Km = $50

Additional mileage - for 7 passenger van -

100Km = $80

Additional hours -

$35/each
We offer follow up translating of any correspondence resulting from a reunion as an Additional Service. The fee for this varies according to the nature and amount of correspondence ($20 - $50/page). Otherwise, we typically try to establish if someone within the family or community can help to translate any ongoing correspondence.
---
Extended Travel
$390/Day For up to 3 persons, 8 hours & up to 350Km/day (lodging & meals not included)
This rate is intended to encourage visitors to travel further with us. Spend 3 days exploring the Czech, Hungarian, German, Polish, or Slovak countryside with us, and save on the overall costs. Enjoy greater flexibility concerning daily travel time and distances, and see more of the countryside with the possibility of local guides in many destinations. In the event a transfer, from city to city, exceeds 10 hours, lodging and meals for the driver or guide will be paid additionally.
$480/Day For 4 to 7 persons, 8 hours & up to 350Km/day (lodging & meals not included).
This will allow you to spend more time exploring some remarkable places on your way to/or from Prague (i.e., Česky Krumlov, Mikulov, Kroměríž, Šumperk, Olomouc, Telc, Melk, Passau, Bamburg, Dresden, Erfurt, Regensburg, Bratislava, etc.).

Along with Extended Travel, we offer our Local Contact service free of charge, with research to help find and book suitable lodging, tours, and events based on your interests. There are some really great hotels and pensions throughout the region, even in the most remote small towns. Twenty Five years of Family History Travel makes us uniquely qualified to help you discover these treasures. This is the added value we can provide those who hire us for 3 or more days of sightseeing between destinations.

Tell us what you are looking for, and we will provide you with options to choose from.  Since we do not rely on provisions from small hotels and pensions, you can be assured that our suggestions will be based on the most suitable lodging available in a particular area, not only those that pay a fee.
---
Self Guided Travel Consulting - $45/hour
Travel independently, by train, bus, or in your own rental car, choose your own lodging from a list of suggestions, and use local guides (wherever available). We will advise you concerning any or all parts of your itinerary. Be as flexible as you like with your travel plans, and we will be as invisible ( but available ) as you wish. Such planning should be done well in advance, to insure availability of local guides and lodging.

---
Additional Services
The following options listed here are intended to help families to keep in touch, once they have been reunited with distant relatives, and if there is a desire to maintain these relations:
Translation of letters and/or other text materials exchanged between families (Czech to English/English to Czech). The cost of translation services (between $25 to $75/page) is based on the amount of text and the technical difficulty of the script (i.e., hand written vs. printed page).
Cards, Gifts, & Flowers - To keep in touch during the holidays, or to mark other occasions (births, marriages, deaths, etc.), we offer to obtain and insure delivery of greeting cards, gift baskets, or flowers to your friends and loved ones in the Czech Republic & Slovakia. $50 - $175 (according to package size, content and weight).